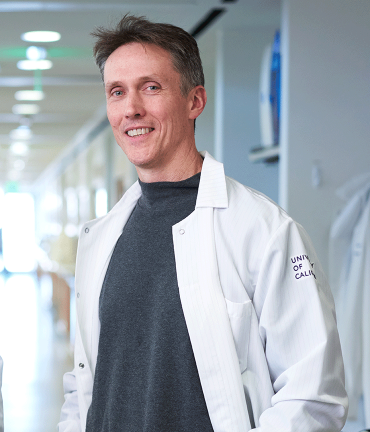 Joseph Costello, PhD
Principal Investigator
Research Interests: functional genomics
Dr. Costello's research focuses on the role of genetic and epigenetic alterations in the formation of sporadic cancers, including brain tumors. His goal is to understand the full evolutionary history of human brain tumors, from the first mutation and epimutation through clonal selection and tumor recurrence. A perennial leader in the field of cancer epigenetics, Dr. Costello has made seminal contributions to the fields of DNA methylation, glioma evolution, and non-coding mutations in human cancers. 
The Costello Lab includes molecular and cell biologists, bioinformaticians, and clinicians, using next-generation sequencing to discover patterns and interdependencies of genetic mutations, epigenetic alterations and gene expression. They also investigate the influence of selective pressures such as temozolomide on tumor evolution. 
Recent discoveries include identification of a TERT promoter mutation that is the most common point mutation in GBM and oligodendroglioma, and the third most common mutation overall in human cancer. Understanding how the TERT promoter mutation drives tumorigenesis and tumor cell immortality offers insight into potential therapies. 
Email: joseph.costello@ucsf.edu
Education
1994: PhD, Loyola University
1994-1999: Postdoctoral Fellow, Ludwig Institute for Cancer Research, San Diego
Academic Positions
2000-Present: Assistant Professor, Neurological Surgery, UCSF
2005-2010: Associate Professor, Neurological Surgery, UCSF
2005-Present: Karen Osney Brownstein Endowed Chair in Molecular Neuro-Oncology, UCSF
2008: Director, NIH Roadmap Epigenome Mapping Center
2010-Present: Professor, Neurological Surgery, UCSF
Selected Awards
2016: Keynote Plenary Lecture, Society for Neuro-Oncology Annual Meeting
2016: Keynote Lecture, Stanford University Cancer Center Annual Retreat
2015: AIRC Lecture, 11th World Conference on The Future of Science
2014: Oncology Society Lecture, Mayo Clinic
2014: Keynote Lecture, Medulloblastoma in the Mountains
2014: Keynote Lecture, ISCO meeting, Cancer Genome: From Structure to Function
2014: Keynote Lecture, EMBO Workshop on Epigenetic Plasticity, Portugal
2013: Keynote Lecture, Inaugural Clinical Epigenomics Conference
2013: Distinguished Lecture, DKFZ, Heidelberg
2013: Chair, Gordon Conference on Genetics and Epigenetics
2012: Keynote Lecture, European Association for Neuro-Oncology Annual Meeting
2010: Outstanding Research Achievement Award, by Nature Biotechnology
2005: Karen Osney Brownstein Endowed Chair in Molecular Neuro-Oncology